George – Wise, fair & a grand teacher – The inventor of "The George Experience"
George is a very clear and sovereign horse. In a herd he is one of the highest ranking horses.
Nevertheless, he is also a gentleman with a high sensitivity for energies. Profiled by Klaus Ferdinand Hempfling he turns out to be a Minister and a Half Born.
He reads people's energy very accurately and is very clear about who he considers to be an equal or not. He has a soft spot for children and authentic people. And I would consider him a master in forgiveness if one can truly admit that some boundaries have been crossed in an unfair manner.
He is fair. He will warn three times in general before he will take action if something needs to be addressed.
He lives together with Rosie and Amaris and helps people finding new insights within themselves when they come to have their "George experience" (more about that later). He takes a vivid interest in people in general.
Please note: George has left us to go over the rainbow bridge now. Thank you, my most beautiful friend for what you have given and taught me. I will never forget you.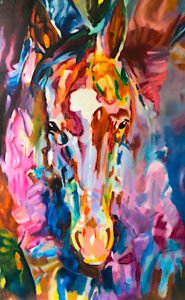 George painted in oil (2021)
by Erin de Raad / New Zealand